International Women's Day is an opportunity to celebrate women's successes in the workplace. This year's theme is choose to challenge, which encourages us to call out gender bias and inequality. We can all choose to seek out and celebrate women's achievements. Collectively, we can all help create an inclusive world.
In honour of International Women's Day, we are celebrating the achievements of our fabulous female executives. We invited Rosanna, Elsbeth, Leigh and Vanessa to share some insights into their career journeys and thoughts on equality in the workplace.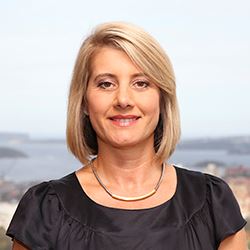 International Women's Day is a global day for celebrating women's achievements and accelerating women's equality. It reminds us to do our bit towards advancing gender equality in the workplace.


I am proud to work within the mutual sector, which puts people first. At G&C Mutual Bank we believe in values, such as developing working relationships based on mutual trust and respect. Our values inform our culture, and we strive to create an inclusive working environment where our staff members thrive.
We strongly support equality in the workplace, as demonstrated by recent appointments to our Executive Team. In February, we welcomed Elsbeth Torelli, who joins us as our Chief Operating Officer, and we also congratulated both Vanessa Tomic and Leigh Abberton on their promotions to executive roles.
Since joining the bank, I have seen many of our female staff members embrace opportunities to develop their careers, such as further study, cross-training and taking on new roles within the business to broaden their experience. All our staff members are encouraged to progress their careers with G&C Mutual Bank, and we provide a supportive environment to help them succeed. In our workplace we live our values and we choose to challenge.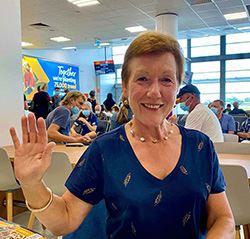 International Women's Day is a celebration of the achievements of women, whether social, political, economic, or cultural and it's also an acknowledgement that the work on equal rights for women is still an issue.
I can honestly state that in my life and career I have been blessed to have been treated fairly and equally. But in large part I put that down to having spent a significant part of my working life in the mutual sector, commencing with Bank First (originally called VTU Credit Union Co-operative Limited) whose reason for establishing the business all those years ago was the need to empower women financially and has continued as part of their DNA.
To me, it's not just gender equality that's important in the workplace, it's equality across gender, age, race, colour, creed, and abilities. Focussing on gender in the workplace more broadly is important because it's the right thing to do. I like this statement from the World Economic Forum, which resonates with me:
"People and their talents are among the core drivers of sustainable, long-term economic growth. If half of these talents are underdeveloped or underutilised, growth and sustainability will be compromised. Moreover, there is a compelling and fundamental values case for empowering women: women represent one half of the global population—they deserve equal access to health, education, earning power and political representation" (Klaus Schwab, Founder & Executive Chairman, World Economic Forum).
Some of my proudest achievements may seem small in the grand scheme of things, but they put a smile on my face and make me stand taller when faced with difficult times. In no particular order:
Taking 30 Girl Guides camping and surviving leeches, tents that got waterlogged, cold showers and wet clothes!
Making my parents proud of me and honouring their faith in me (after some missteps along the way).
Being appointed to the Board of Traditional Credit Union.
Being a good mum to Frankie (my dog).
Being prepared to give something a go and learn along the way.
Helping my staff grow, develop, and succeed.
My advice for women joining the finance industry is know what you want and go after it. Do so with passion, curiosity, and intent. If you hit obstacles or have a moment where you doubt your ability to succeed, reach out to mentors and friends who you trust and ask for their help. Don't do it alone; build your base of support and ask them to help you as you drive to meet your goals.
For the men in our industry: you can proactively help women succeed. There are a lot of talented women who need your help, either because they don't recognise that they are ready for the next challenge, or they are challenged in managing their responsibilities at work and beyond. Engage them and be an advocate who pushes them further towards their goals than they are pushing themselves. Ask them what they need and be ready to jump in and help. They will ask for help in a different way (perhaps in a less direct way) than your male colleagues. Don't miss the signs.
The best advice I have ever received:
Your word is your trust bond.
Listen more than you speak. You were given two ears and one mouth for a reason.
Be kind. Always.
Be curious, your curiosity can take you to many interesting places.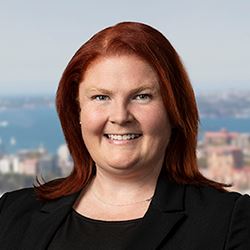 International Women's Day, to me, is a day of recognition and celebration of women all around the world. While it's an opportunity to celebrate the achievements of women and the progress that has been made towards gender equality, it's also a day to raise awareness about the importance of continuing to work towards gender equality.
I have been very blessed to work with a number of executives who have been very supportive and encouraging towards further education, career progression and, most importantly, work-life balance. Throughout my career, these people have all had varying leadership styles that taught me considerable professional and personal skills. I am grateful for their contribution not only to my career and the development of my own leadership skills, but also to my personal growth. 
During my career, I would say that being a woman has been an obstacle at times. However, I have been able to grow, learn, experience, and achieve so much by rising to the challenge. In my opinion, the workplace can be more challenging for women than men at the same level. In the early stages of my career, I always had to work a little harder to be recognised for a promotion because finance is such a male-dominated industry. However, female representation has definitely improved over the years.
What I love most about my current role is the never-ending opportunity for continuous improvement – continuous improvement being one of our core values at G&C Mutual Bank. I am very lucky to be in an operational role that allows me to be part of a team that not only contributes to the growth and financial facets of the business, but also enables me to be involved in identifying and implementing change through process improvements across the bank to provide better service to our members.
The most challenging aspects of my role are keeping the wheels moving forward operationally, continually improving member service, and actively implementing change across the business through process improvement while also balancing sufficient time for staff development. I am very passionate about ensuring that I continue to train, share knowledge, coach, and mentor not only my team, but also others within the business.
My proudest achievement professionally would be my recent promotion to the Executive Team. I have been fortunate throughout my career to work with some amazing leaders. I am proud to say that a number of these have been female, from whom I have gained an enormous amount of operational and industry knowledge and experience. Continued hard work, persistence, and passion, along with the many opportunities I have been afforded to expand my role and responsibilities, have assisted my progression. On a personal note, my proudest achievement would be the contribution I have made to my community through sport (netball). Giving back to the community by coaching young and older players, watching their development and celebrating their successes has been extremely rewarding.   

My advice for women joining the finance industry is dream big. You can make a bigger impact, do more and go further than you imagine in your dreams. Be confident in your knowledge and ability. Always strive for excellence, be true to yourself, act with integrity, stay humble and grounded, but back yourself and celebrate your achievements!
The best advice I have ever received is success is not the key to happiness. Happiness is the key to success. If you love what you are doing, you will be successful.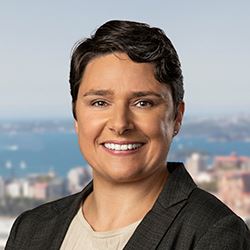 Gender equality is important because every individual has skills, abilities, and experience to contribute to the workplace, so we should all have access to the same opportunities to participate, develop and achieve.
In my professional experience, I am most grateful to be able to say that I have never felt that my gender has been an obstacle to my career path. I hope that will truly become more the norm than the exception, and celebrating International Women's Day helps to achieve that – right now and for future generations. Every individual should have the opportunity to advance in their career if they choose to do so.

I have been very fortunate to have had ready access to higher education and to have my efforts rewarded throughout my working life with continued development and career advancement. I have benefitted greatly from the support and encouragement of my peers, managers, and mentors along the way, and I am extremely grateful for their guidance and inspiration.
My proudest achievements include being empowered by independent overseas travel in my early twenties, and the satisfaction of positive career progression through a variety of roles, driven by hard work and commitment to shared values. Then came the joy of starting a family – now complete with our two wonderful daughters. Most recently, I have seized the opportunity to expand my professional focus into the operational space – an exciting new career chapter and steep learning curve that continues to both challenge and reward me on a daily basis.


My words of wisdom to women joining the finance industry are don't be afraid of the numbers! Every person brings their unique abilities and perspectives to the mix, building diversity and driving success. You can always train for skill, but not attitude. 
This ties in with the best advice I have ever received:
Never be afraid to ask questions.
Bring a solution, not just the problem.
Take every opportunity and have faith in yourself!
"Thank you" Rosanna, Elsbeth, Leigh and Vanessa for taking time out to share these valuable insights. We would like to wish you all a happy International Women's Day!