Unfortunately, scammers are taking advantage of the fear and uncertainty surrounding the coronavirus situation.
The Government's Stay Smart Online website and the Australian Cyber Security Centre (ACSC) have reported that a COVID-19 themed phishing scam is targeting Australians via text message.
The text messages appear to come from 'GOV' and include a link to find out 'when to get tested in your geographical area' for COVID-19.
Clicking the link may install malicious software that's designed to steal your personal data, such as your banking details, via your device.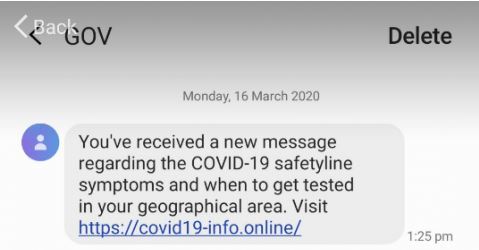 How to stay safe from this scam
Do not click the link
Delete the message
Remember that the Australian Government will not text you a website link
Additionally, Scamwatch has warned of a number of other scams including phishing emails and phone calls impersonating the World Health Organisation, government authorities, and legitimate businesses – including travel agents and telecommunications companies.
Scammers are trying a range of tactics such as falsely selling coronavirus-related products online, promoting investment scams and using fake emails or text messages to try and obtain personal data.
Protect yourself
Be aware of fraudulent emails claiming to be from experts providing information about the virus. For the most up-to-date information about the coronavirus visit the Department of Health and the World Health Organisation (WHO)
Never respond to unsolicited messages and calls that ask for personal or financial details
Be wary of fake online shopping sites requesting unusual payment methods or offering deals
Don't click on links from sources you don't know
Stay across the latest consumer advice relating to COVID-19 (coronavirus) on the ACCC website
Visit Scamwatch for more ways to avoid falling victim to scams.
Need help?
If you believe someone has gained access to your personal information, even if the scam appears unrelated to your finances, you should contact your bank immediately. A timely response can be critical in giving you the best chance to stem any loss.
If you have concerns about your G&C Mutual Bank account contact us on 1300 364 400
If you have been the victim of identity theft, IDCARE can guide you through the steps to reclaim your identity. Contact them on 1300 432 273 or via https://www.idcare.org
You can find out how scams work, how to protect yourself, what to do if you've been scammed or report a scam to the Australian Competition and Consumer Commission (ACCC) via the Scamwatch website scamwatch.gov.au