NSW Ambulance is an integral and dynamic part of the NSW Health System, and NSW Ambulance's staff members consistently go above and beyond to help the community. That's why G&C Mutual Bank is proud to sponsor the NSW Ambulance Employee of the Month and Employee of the Year Awards.

Each month, a NSW Ambulance staff member is recognised by the Employee of the Month Award for demonstrating outstanding performance or innovation. Here's an update on this year's recipients to July.

Congratulations to the recipients and all those nominated. 


NSW Ambulance Employee of the Month for January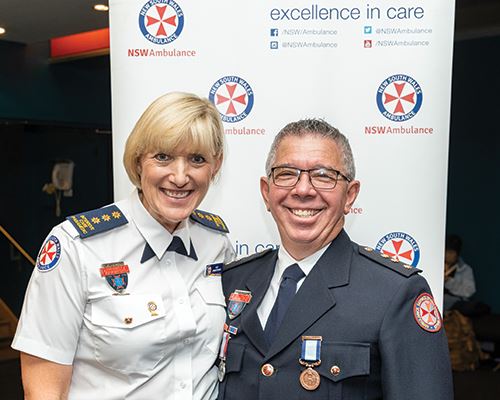 Kay Armstrong, Duty Operations Manager, Sydney & South Eastern Sector, Peer Support Officer & committee member of the State Clinical Excellence Team

Kay holds an exemplary record of service across her 25 years at NSW Ambulance. She has the ability to harness the strengths of those around her and raise standards and performance across her teams. This has been strongly demonstrated in Kay's work as a Peer Support Officer. She has been part of the program since its inception, and she is held in the highest regard by her managers and colleagues. Kay consistently supports staff members, not just within her sector, but across the state.

As a mentor, trainer and clinical leader, Kay has educated a multitude of intensive care paramedics, paramedics and trainees; all of whom regard her with the utmost respect for her professionalism.
---

NSW Ambulance Employee of the Month for February



Suzy Kosteski, Dispatcher, Southern Control Centre

Suzy has been recognised for her commitment to safety during the recent bushfires, which ravaged New South Wales. She is applauded for demonstrating excellent coordination and organisational skills under extraordinary pressure. On New Year's Eve, 2019, an ambulance road crew could not gain access to a property under threat from an approaching fire. There were fears for the safety of the elderly residents. Suzy went through the previous Triple Zero (000) callout records for the address, contacted a relative of one of the residents and was able to establish that the residents had been safely evacuated. Her quick thinking meant ambulance crews could be diverted out of the line of danger.


"By gathering and processing all available information on cases under her control, Suzy ensures everything possible is done from an operations perspective to avert any adverse outcomes to both staff and patients," George Benson, Senior Operations Centre Officer, said.


While she was extremely grateful for the recognition, Suzy emphasised that it was a team effort:


"I couldn't have done what I did without everyone in the Control Centre – from call-takers to dispatchers, to supervisors, everyone in the room has to work together as a team and communicate," Suzy said.



---

NSW Ambulance Employee of the Month for March



Peter Daly, Paramedic Specialist, Dubbo

Peter's outstanding dedication and commitment to both patients and colleagues throughout his service in Dubbo and surrounding regions are recognised by the Employee of the Month Award for March.


With over 41 years' experience as an operational paramedic, Peter displays an exceptional attitude in his approach to all his patients, always treating them with empathy, compassion and respect. He is a role model and a mentor for many of his colleagues both professionally and personally.


Peter was instrumental in starting an annual charity basketball game between local police and paramedics to raise money for a local cancer charity. This highlights that his commitment to helping others reaches beyond the scope of his role with NSW Ambulance. It is just one of his many collaborative efforts to build a resilient local community.


While continuing to bring high energy to every case, Peter is commended not only on his lengthy service, but also for continuously demonstrating the NSW Ambulance CORE (Collaboration, Openness, Respect, Empowerment) values and contributing to strategic objectives through his everyday service delivery and staff mentoring.


---

NSW Ambulance Employee of the Month for April



Lauren Mareschi, Paramedic, Blacktown


Since starting her career with NSW Ambulance in July 2012 at Blacktown Station, Lauren has never looked back. Initially, Lauren was following a different career path, but after a re-evaluation, she decided to follow her dream of becoming a paramedic. 


Lauren has implemented numerous improvements to the smooth running of the station, benefitting both the organisation and her peers. She consistently goes above and beyond in the roles she undertakes and has completed a number of courses in her own time that support her professional development.


She has worked diligently to develop an automated system for non-restricted medications that is being considered for state-wide implementation. This project considers efficiency, patient safety and the direction of the organisation, including NSW Ambulance's focus on digital health, patient care and safety.


Lauren also works well with her peers and describes her colleagues at Blacktown Superstation as being "like family."


"It really helps to be surrounded by a group of people who inspire you and make you feel appreciated," Lauren said.


Reflecting on her role, Lauren explains:
"During such unprecedented times, when we are all under so much pressure, it really makes you appreciate your colleagues even more. We look after and support each other."



---

NSW Ambulance Employee of the Month for May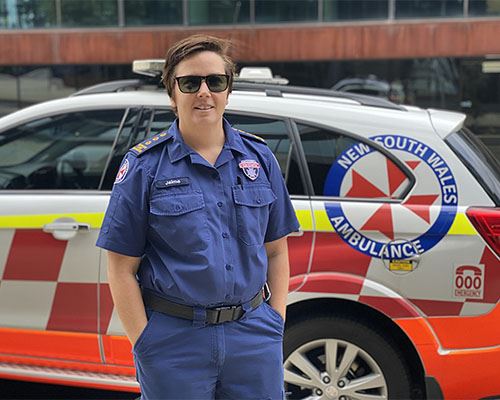 Jaime Warhurst, Acting Duty Operations Manager, Hunter New England

Jaime started her career with NSW Ambulance in 2007. She has spent the last two and a half years in the Hunter New England sector, recently as Acting Duty Operations Manager (A/DOM) and Station Officer at Hamilton Station.


During the COVID-19 pandemic, Jaime independently initiated, constructed and implemented a successful Paramedic Self Reporting & PPE (personal protective equipment) Audit system. The system helps to identify COVID-19 hot spots, PPE usage and stock levels and staff who may be at risk of exposure, while also providing a real-time communication channel between staff and managers. It involves QR codes that help NSW Ambulance staff members access the latest information available on the pandemic, PPE audits, and it also acts as a timely notification and escalation portal that improves staff wellbeing and safety.

"The self-reporting tool and PPE audits are really about staff feeling safer and supported to do their job," Jaime said.

Jaime goes above and beyond in her role of A/DOM and often works additional hours to facilitate camaraderie, open communication channels and limit the burden on management and staff.

"The most rewarding part of my job is just having the opportunity to interact and build rapport with staff," Jaime said. "To be recognised like this is very unexpected but I'm thankful. It's definitely humbling."
---

NSW Ambulance Employee of the Month for June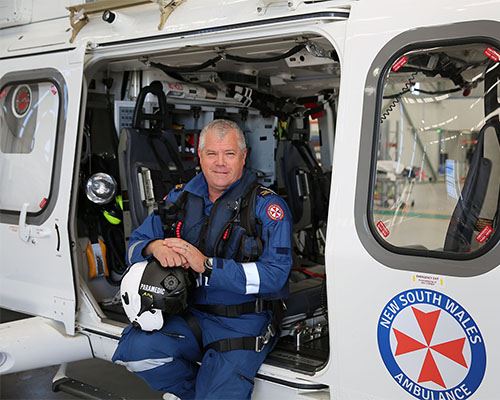 Garth Thomson, Critical Care Paramedic, Wollongong

With over 25 years' experience, Garth has spent the past 13 years working as a Critical Care Paramedic on ambulance helicopters in Sydney and is now assigned to the Aeromedical Helicopter Base at Wollongong.

Garth was part of the leadership team which implemented the critical care classification in NSW Ambulance and he is heavily involved in aviation safety, currently holding the role of Aviation Safety Network Advisor. He is also part of the special casualty access team and, as a trainer, has played an integral part in the development of fellow officers. Garth regularly manages the Aeromedical base when the substantive manager is away, ensuring clinical directions, governance and safety are maintained at the highest level. He proactively liaises with multiple stakeholders, internal and external to the organisation and within the aircraft industry.

"I think the most rewarding part of my job is that I'm challenged every day," Garth said.

Garth maintains exceptionally high standards in his role working alongside medical practitioners and specialist teams responding to critical incidents around southern NSW.

"We have an amazing group of paramedics across NSW, so to be any way recognised is flattering and humbling. I'm just one part of the larger ambulance family," Garth said.
---

NSW Ambulance Employee of the Month for July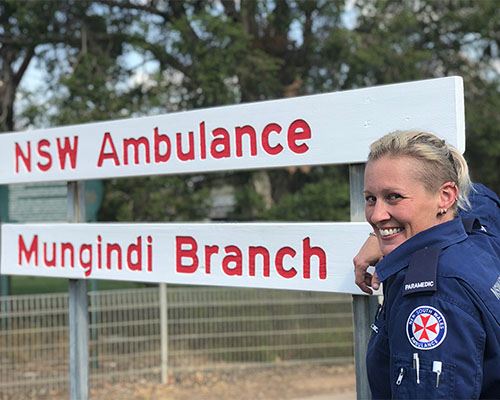 Erin Matterson, Station Officer, Mungindi

Since moving to Mungindi in February 2019, Erin has worked tirelessly to improve relationships between NSW Ambulance, the community, and the other health and emergency services in the region.

Erin sought to engage the local Mungindi community and health services to determine their needs. She was open to receiving critical feedback on past shortcomings of the service, and then worked towards creating solutions to key issues.

She coordinated the creation and commencement of a transport algorithm with Mungindi Hospital – repairing the historically difficult relationship between the Queensland Health Hospital and NSW Ambulance.

The level of dedication Erin has shown towards improving Mungindi Station has been above and beyond. Under Erin's leadership and as a result of extensive community engagement, Mungindi Station has seen a 34 percent increase in overall response figures from 2018. Through developing and maintaining a culture of patient-centred care, Erin has led a team responsible for improving health literacy and wellness within the community.

Erin was surprised and humbled to be awarded Employee of the Month for July.

"It's unbelievable, I definitely didn't expect it. Being out in a remote location you really rely on your team – so I couldn't have done it without them," said Erin.
The Employee of the Year will be chosen from the complete list of monthly recipients for 2020 – a very difficult task as they are all such worthy recipients.  

Thank you, NSW Ambulance, for everything you do for our community.