NSW Ambulance's staff members consistently go above and beyond to help the community. That's why G&C Mutual Bank is proud to sponsor the NSW Ambulance Employee of the Month and Employee of the Year Awards.

We're delighted to announce February's recipient: Tegan Groom. Congratulations Tegan!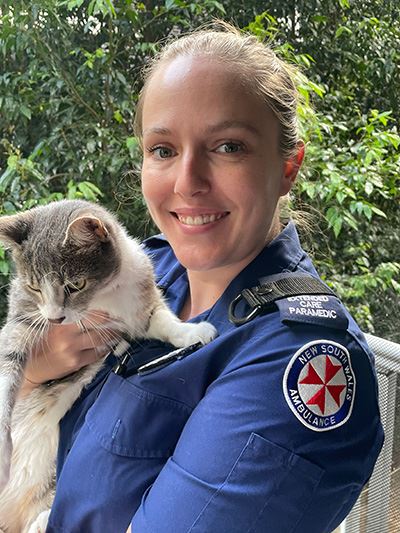 Tegan Groom, Extended Care Paramedic (ECP), Bankstown 
A paramedic for five years, Tegan is completing her consolidation period at Bankstown Superstation after being away for eight months. Having undertaken two initiatives to improve station culture and clinical performance in addition to her usual ECP duties, Tegan was nominated for the monthly award after both projects proved to be big successes.

The first was helping the South West Sydney (SWS) sector reach 80 percent compliance for the Elderly at Risk (EAR) Clinical Key Performance Indicator (KPI). Tegan actively worked with the SWS sector management team, presenting new strategies to improve the overall team's performance. The SWS sector achieved the performance benchmark and became the first sector to accomplish this.

"It feels awkward receiving this award but it's really nice to be recognised, especially for passing EAR compliance," Tegan said.

"It was personally challenging as my DOM (Duty Operations Manager) gave me the tasks and I feel I really became an absolute pest because I was annoying people and constantly sending emails reminding everyone about the targets."

"To meet those targets the first time was a great effort by everyone and now we have done the same thing for the second month."


While many of Tegan's colleagues did not think they would be able to reach 80 percent EAR compliance, Tegan continued to find ways to support and motivate the team to keep aiming high.

"With a mix of junior and veteran staff, I wanted everyone to be involved and it was hard to find ways to keep focused," Tegan said.

She credits a lot of her enthusiasm and knowledge to her ECP training and using a range of strategies to suit everyone, including peer-to-peer mentoring. Tegan used educational videos for SWS staff, DOMs and paramedics, which highlighted how to complete the EAR KPI on a patient. She also actively sought staff feedback to evaluate which strategies worked and what needed rethinking.


"I tried information emails and even bribery with biscuits for meeting the targets," Tegan said.


For the second project, Tegan created an in-house social magazine for Bankstown Superstation's staff to improve team social cohesion. Crib Chronicles is a bright and fun newsletter. It includes photos of social events, a 'Pat-a-Medic' section featuring photos of paramedics with their pets, healthy recipes, suggestions for activities to do on days off and NSW Ambulance clinical updates. Tegan's Bankstown Superstation social magazine is printed every two months to keep everyone connected and socially engaged.

"I get copies printed at the local Officeworks and it's about what goes on with our people," Tegan said.

"When I left the station, it was very much a fun family and we have a great group of new people here who will love being part of this family culture. I just want them to see all the great things we do and the funny things that happen in this team."

Tegan receives a $250 G&C Mutual Bank savings account and the opportunity to receive a further $2,000 G&C Mutual Bank savings account for the NSW Ambulance Employee of the Year Award. The recipient of the annual award will be chosen from the 2021 Honour Roll of Employees of the Month.