Our Momentum Home Loan has been named Money magazine's Best Value Flexible Home Loan Bank Product 2021. This is a great acknowledgement of our Momentum Home Loan, which has been specifically developed to assist those looking to refinance their home loan from another institution.

Money magazine's Best of the Best Awards are a symbol of excellence for consumer finance products. The winners must provide class-leading services to consumers, which are determined through pricing, interest rates and coverage across the relevant categories.
As Australia's longest-running, highest-selling and most-read personal finance magazine, Money magazine provides credible, independent and easy-to-understand financial information to help its readers earn more, save more and make the most of their investments.  

At G&C Mutual Bank, we're committed to developing products that deliver exceptional value, and we're delighted to receive this recognition.
Check out our range of home loans or contact us to find out more.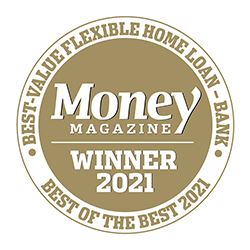 Recent award success
During November, our Fair Rate Personal Loan was again recognised by both Mozo and Canstar for its great value.

In October, we were awarded the InfoChoice Home Loan Lender of the Year Award in the Customer Owned Category as well as receiving four other InfoChoice Home Loan awards across three products. October also brought independent industry recognition for our Low Rate Visa Credit Card, which again achieved a Mozo Experts Choice 2020 Award for Low Rate Credit Card and a Canstar 5-Star Rating for Outstanding Value Low Rate Credit Card.