G&C Mutual Bank is a long-term partner of Barnardos Australia via the Australian Mutuals Foundation (AMF) and is proud to support Barnardos' Sydney Metro Streetwork program.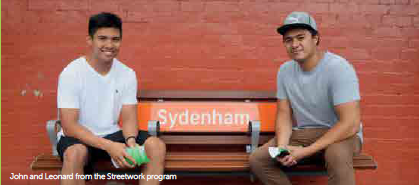 Barnardos' Sydney Metro Streetwork program has been operating in the Marrickville and Belmore areas for 33 years, supporting young people aged 12 to 18 who are at risk of drug and alcohol abuse.


The program's mission is to connect with vulnerable and homeless young people "on their own terms and on their turf" and let them know what support is out there. The work is carried out in the late afternoons and evenings around train stations, shopping centres, parks, and on the street – wherever young people hang out.


Streetwork program worker Stella explains how they connect with at-risk youth:


"We arrange BBQs in the parks after school and we do outreach on the trains. We are the ONLY service that connects with young people on the trains in this way.


"It's all about talking to young kids and letting them know who we are and how we can help. It's amazing how many do reach back out to us, which makes it such rewarding work.


"We help them get the support they need, like drug and alcohol counselling or help with mental health issues. And we help them to find stable accommodation and re-engage with school or employment."


Stella's colleague John says he never forgets the young people he's worked with:


"On my second day at Barnardos, I met a young 15-year-old girl called Jackie. Her dad had left, and her mum had just died by suicide. The person she had confided in, her best friend, had just raped her. She was then shamed by having it all put on social media.


"She was in a really bad way and wanting to suicide. Thankfully, I was able to make a connection with her. She went to live with her grandparents, and with support, she felt able to go back to school. It meant so much to see her get her life back together.


"Two years on, we're still in contact – and she's doing really well."


Barnardos Australia is taking all necessary COVID safe precautions at this time including putting this program on hold temporarily while Greater Sydney is in lockdown.


The demand for the Streetwork program is overwhelming. Last year alone, workers like John and Stella reached 5,200 children with life-changing guidance and support – and it's the generosity of Barnardos Australia's donors that makes this possible.
About Barnardos Australia
Barnardos Australia believes all children and young people deserve caring families in which they can grow safely and fulfil their potential. They work together with children, young people and families to break the cycle of disadvantage, creating safe, nurturing and stable homes, connected to family and community.