Community is at the heart of G&C Mutual Bank, so when the Australian Mutuals Foundation (AMF) contacted us to ask for help at the Barnardos Peter Pan Op Shop, three of our staff members stepped up.


On Monday, 24 May, Helen and Teresa joined staff from other mutual banks and credit unions to help set up stock and price items ready for the Peter Pan Op Shop Winter Sale – an event in the diaries of Sydney's fashionistas that takes place over three bargain-filled days. In-store help was also requested for the first day of THE sale of the season, so Louise joined the Wednesday team of volunteers to assist customers.


We asked our volunteers to tell us about their day at the remarkable Op Shop that is part of Sydney's fashion history and provides an opportunity to support vulnerable children, young people and families.


Helen's volunteering day 
"It was a lovely, fun-filled day and I enjoyed getting to know likeminded people. It was so rewarding to know that our hard work will help make a difference to someone else's life. It really gives you satisfaction, helping others and being able to give something back to the community. Helping the community is really what our bank was founded on. You don't realise how much work and how many people are involved in running an event like this until you get involved.


The Peter Pan Op Shop dates back to the 1940s, when clothes rationing was necessary during World War II. It was founded to provide affordable clothing and, since then, a second-hand clothing sale has taken place twice a year with the funds raised donated to Barnardos Australia to support the work they do to help vulnerable women and children.


Thank you for allowing me to go and be a part of it all," said Helen.

Helen and Teresa at the Peter Pan Op Shop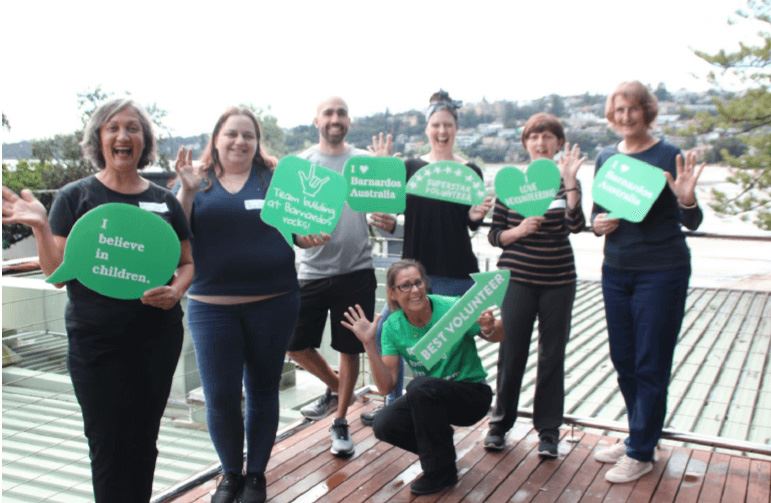 The Monday team of volunteers
Louise's volunteering day
"Volunteering for Barnardos was a great experience and I certainly would encourage others to put their names forward to volunteer in the future. 


The Peter Pan Committee supports Barnardos by holding an op shop sale twice a year. The Committee does an extraordinary job sourcing pre-loved designer clothes from generous benefactors, or new clothing/samples from businesses such as Sass & Bide and Tigerlily and then prices them to achieve the best result possible for Barnardos. 


For me, a sunny ferry ride to the lovely surrounds of Rose Bay, teaming up with other mutual bank colleagues for a common cause while having designer and vintage fashion at my fingertips was not a chore. In fact, it was a hoot! Once the doors opened, it was stand back and watch those seasoned bargain hunters find their treasure!


As volunteers, we were assigned various tasks; some manned the entry doors for QR code check-ins and others, including me, transformed into price checkers and/or fashion consultants. It didn't really matter what task we were given – we were happy knowing that the money being raised was for Barnardos Australia and their programs to "nurture safe and stable homes for children, young people and families"," said Louise.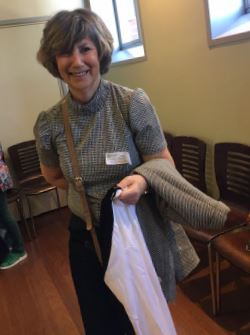 Louise at the first day of the sale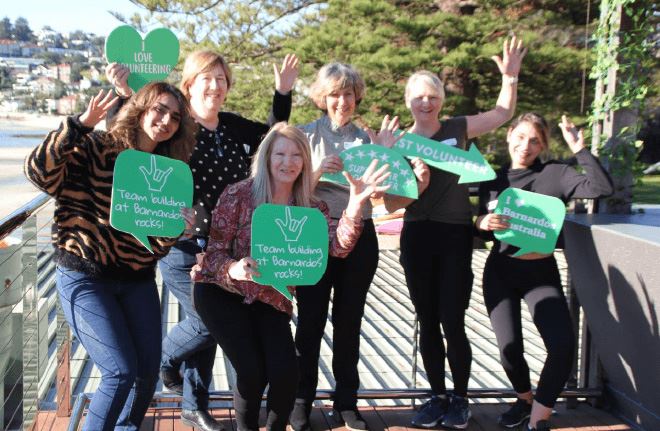 The Wednesday team of volunteers
Thank you to our superstar volunteers, Helen, Louise, and Teresa, for getting involved and helping to raise funds to support Barnardos Australia's valuable work.


At G&C Mutual Bank, we provide a volunteer leave program where all employees are eligible for a paid day off each year to dedicate their time to a charity of their choice or one coordinated by the bank.
What is the Peter Pan Op Shop?
The Peter Pan Op Shop in Rose Bay is run by the Peter Pan Committee, a fundraising auxiliary of Barnardos Australia, and it dates all the way back to World War II when clothes rationing was introduced. Since then, a second-hand clothing sale has been held biannually, raising thousands of dollars for Barnardos along the way.


The Peter Pan Op Shop has become a highly respected and recognisable charity fundraiser, with high-profile supporters such as Sass & Bide, Bec+Bridge and Tigerlily to name a few.



About the Australian Mutuals Foundation (AMF)
The AMF was established:
To support Australian children and youth who are at risk of abuse or neglect, or who are disadvantaged in terms of housing, medical care or education (domestic activities are conducted through a partnership with Barnardos Australia).
To assist remote and disadvantaged communities in impoverished South East Asian and South Pacific countries to alleviate poverty through the creation of sustainable financial cooperatives (international activities will be conducted through a partnership with the Asian Confederation of Credit Unions).
To provide a mechanism for members of cooperatives and mutuals, and the general public, to make donations to assist those affected by natural disasters (either domestic or international).