Two things we're quite proud of at G&C Mutual Bank - our dedication to members and their needs, as well as the fact that we're owned by that very same community. This means we think of financial products such as savings accounts and term deposits in a different way. In short, we're focused on how the end product meets the expectations of the members using them.
That's part of the driving force - or the big idea - behind our business.
To this end, we're extremely excited to announce that G&C Mutual Bank has been recognised again for excellent term deposits in the Mozo Experts Choice Awards for 2023.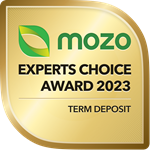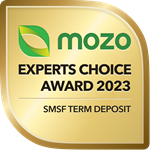 These awards are significant because every year, Mozo's team of expert judges analyse a wide breadth of term deposit providers to find the accounts that offer great value. That means picking the best based on their rates across the short, medium, and long term.
Mozo's team analysed over 80 banking providers in order to determine the award winners. This year, G&C Mutual Bank won awards in the Term Deposit and SMSF Term Deposit categories.
As a mutual bank owned by our members, we're a values-driven organisation where member interests are not in conflict with shareholder interests. We strive to deliver quality products to our members, amongst these are competitive term deposits where you can invest as little as $1000.
Many savers have been looking to term deposits due to rising interest rates and their fixed term nature. Learn more about how our award-winning term deposits can help you achieve your savings goals at our savings and investment page.
To ensure that G&C Mutual Bank's products remain market competitive, we routinely submit our range of products for independent assessment and peer benchmarking. Our numerous awards confirm our ongoing commitment to providing products that offer great value for our members.