CEO Rosanna Argall volunteers at the Barnardos Australia Peter Pan Op Shop
G&C is a supporter of the Australian Mutuals Foundation, which participates with Barnardos to provide volunteers and support for their annual Peter Pan Op Shop fundraising event. Our CEO, Rosanna Argall, joined volunteers from other mutual banks and the Australian Mutuals Foundation (AMF), to help with the Barnardos Australia Peter Pan Op Shop Winter Sale held at Rose Bay in Sydney. The volunteering spanned across three days during May 2022 and included assisting with the various tasks of setting up, being there to provide assistance on sale day, and packing up afterwards. Rosanna was there during the sale day and provided help to customers as they browsed through the clothes, as well as putting stock back on the racks, general tidying of the store for customers, and more.
G&C Mutual Bank has supported Barnardos Australia for many years. Volunteering is seen as a wonderful way to connect with the community and to provide support to those who need it most.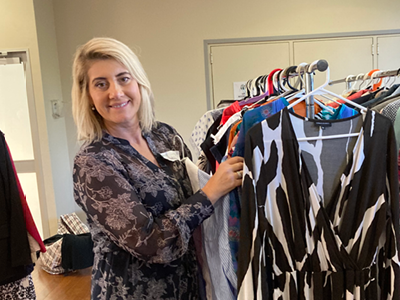 Rosanna Argall, G&C Mutual Bank CEO,
Volunteer at the Peter Pan Op Shop Winter Sale
The Peter Pan Op Shop history
The Peter Pan Op Shop in Rose Bay is run by the Peter Pan Committee, a fundraising auxiliary of Barnardos Australia, and it dates all the way back to World War II when clothes rationing was introduced. Since then, a second-hand clothing sale has been held bi-annually, raising thousands of dollars for Barnardos along the way. The Peter Pan Op Shop has become a highly respected and recognisable charity fundraiser, with high-profile supporters such as Sass & Bide, Bec+Bridge and Tigerlily to name a few.
About Barnardos Australia
Barnardos Australia believes all children deserve caring families to grow safely and fulfil their potential. They keep children safe by supporting families and strengthening communities facing issues such as violence, poverty, mental illness and homelessness. Their wrap-around services include family support and preservation, domestic violence support, youth and family homelessness services, drug and alcohol support, parenting and early learning programs, foster and kinship care and open adoption. Barnardos Australia work together with children, young people and families to break the cycle of disadvantage, creating safe, nurturing and stable homes, connected to family and community.
Australia's Biggest Morning Tea
Our staff are passionate about helping others. Not only do staff volunteer and provide support and assistance to charity events, they give back through various fundraisers and charity donations, as shown through this year's Australia's Biggest Morning Tea event held during May 2022. 
G&C Mutual Bank staff enjoyed a delicious morning tea and within only a few hours, staff generously donated $661 towards the fundraiser! A fabulous achievement!
The money raised will go towards the Cancer Council's cancer-related research, support, and education. G&C staff enjoyed getting together socially for such a great cause!