Each month, NSW Ambulance employees nominate a colleague for the Employee of the Month Award, which is proudly sponsored by G&C Mutual Bank. The award recognises those who go above and beyond for their team and the community. We're pleased to announce the recipient for April: Adrian Green. Congratulations, Adrian!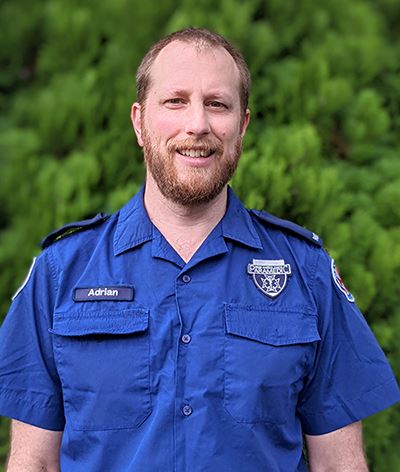 Adrian Green, Paramedic, Blacktown Station


A paramedic for the past 15 years, Adrian has been recognised for playing a crucial role in ensuring his colleagues have access to online educational sessions. These sessions have become increasingly beneficial due to face-to-face COVID-19 restrictions.
"I hate to use a cliché, but it's nice to be acknowledged," Adrian said. "There are a few of us at the station who are helping make Blacktown the great training ground it is today. I am just one member of that team."
With the approval of the regional educator, Adrian helps to run education evenings for the Western Sydney Nepean Blue Mountains sector. As part of those sessions, Adrian has been credited for recording, editing, and producing these sessions using his own equipment. He then uploads them to a protected VIMEO page where all paramedics can access the sessions.

"We very much want to look after educational growth and I believe our morale is representative of that," Adrian said.


By making the educational material available convenient and fun, Adrian's efforts have helped support paramedics to meet their registration competencies and progress their performance.

"Seeing the people I work with develop and learn is rewarding, especially when you see a bit of yourself through them, which is then taught to their trainees and so on," Adrian said.

Adrian received a $250 G&C Mutual Bank savings account, and he also has the opportunity to receive a further $2,000 G&C Mutual Bank savings account for the NSW Ambulance Employee of the Year Award. The recipient of the Employee of the Year Award will be chosen from the 2021 Honour Roll of Employees of the Month.


Thank you, NSW Ambulance, for everything you do for our community.