The NSW Ambulance Employee of the Month is selected for demonstrating outstanding performance or innovation. As the sponsor of these awards, G&C Mutual Bank is delighted to announce January's recipient: Sophie Wills. Congratulations Sophie!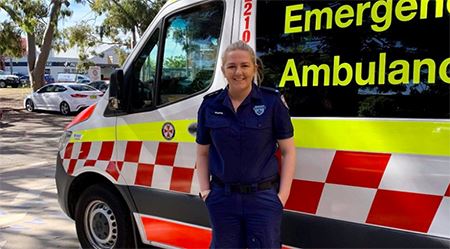 Sophie Wills, Graduate Paramedic Intern, Dubbo Station

The 22-year-old graduate founded the Community Defib Project, a registered not-for-profit organisation that is installing community accessible automated external defibrillators (AEDs) into vulnerable communities.


The project is a collaboration between Western Sydney University, the Defib shop and community members. With no ongoing Government funding or support, it relies on donations, sponsorship and profit from merchandise sales. Sophie chairs a Board of Directors, made up of medical experts and passionate community volunteers, to drive the fundraising for each AED unit. The group has already raised $60,000 and installed 28 devices across nine communities, including Wiseman's Ferry, St Albans, Catherine Hill Bay, Maroota, Spencer, East Kurrajong, Upper Colo Valley, Colo Valley Heights and Sackville-Ebenezer.


Sophie said she was humbled by the nomination but was very happy that word was spreading about the program and its success.


"I had no idea I was nominated, no idea at all," Sophie said.


"I've been supported with this project in my discussions with Dominic Morgan and Alan Morrison who have been very helpful," she said. "Now that our organisation is progressing and getting bigger, the word is out."


Sophie said the idea for more community defibrillators came to her after a family friend had a cardiac arrest, and help was 75kms away from where they were. With time being critical during a sudden cardiac arrest, the project's aim is for every person to be within 10 minutes of defibrillation.


"Every minute that goes by without defibrillation means survival is reduced by 7-10 percent," Sophie said. "I was in my second year of studies when I started thinking about what it would take to provide the equivalent of what paramedics provide if we were in those communities."


Now the momentum is picking up for the program, Sophie is hoping to be in touch with all communities across the state and is keen to start fundraising and gathering volunteers for the work.


"We have a big challenge ahead to find funding to complete the project across NSW," she said. "Ultimately, providing a community with the tools to save a life during a sudden cardiac arrest is what is most important."
Sophie received a $250 G&C Mutual Bank savings account and the opportunity to receive a further $2,000 G&C Mutual Bank savings account for the NSW Ambulance Employee of the Year Award. The recipient of the Employee of the Year Award will be chosen from the 2021 Honour Roll of Employees of the Month.


Thank you, NSW Ambulance, for everything you do for our community.