Sponsoring the NSW Ambulance Employee of the Month Awards is G&C Mutual Bank's way of saying 'thank you' to NSW Ambulance for their dedication to our community. We're pleased to announce the recipient for July: Graham Tehan. Congratulations, Graham!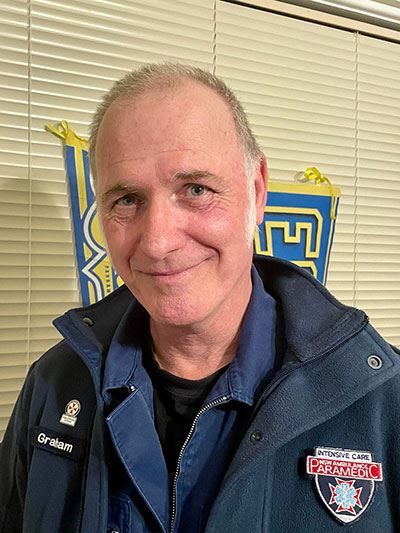 Graham Tehan, ICP Peer Support Officer, Penrith Superstation

Graham has been credited for consistently taking an active role in enhancing staff morale and enthusiasm through his approachable and humorous nature. He has been described as "one of those special staff members" that many people turn to not only in times of hardship but in general working life.


The Penrith Superstation paramedic said it was "humbling" to be named Employee of the Month by his peers.


"I was certainly surprised," he said.


"For me, teamwork and a harmonious environment where we all help each other one way or the other are mainstays within this job. It's also important to stay in touch with other colleagues.


"It's good being a peer support officer as that keeps me in contact with others from across the board in the Western Sydney and Nepean Blue Mountains Sector."


Through his promotion of team cohesiveness – which includes excellent relationships with all stakeholders – Graham has been praised for ensuring the job, which at times can be difficult, is fun and enjoyable for all. One of the key initiatives Graham started is a twice-yearly social event which began in 2001.


"It's about getting people together socially and getting people to know each other for a better environment in the workplace," he said.


In his 27 years with NSW Ambulance, Graham – who has also been described as a quiet achiever – constantly demonstrates the organisation's CORE values, in which he has helped foster a wonderful station culture and been an inspiration for younger staff. And living up to his reputation as somebody who is always looking out for others, Graham revealed how would likely spend the money he received as part of being named Employee of the Month.


"I might buy my wife something nice, because without her there is not too much of me to be honest," he said.
Graham received a $250 G&C Mutual Bank savings account, and he has the opportunity to receive a further $2,000 G&C Mutual Bank savings account for the NSW Ambulance Employee of the Year Award. The recipient of the Employee of the Year Award will be chosen from the 2021 Honour Roll of Employees of the Month.


Thank you, NSW Ambulance, for everything you do for our community.