G&C Mutual Bank was in the field on Saturday 15th and Sunday 16th May as a major sponsor of the St Heliers Heavy Horse Field Days.

It was an early start for the competitors on both chilly Muswellbrook mornings, as each heavy horse was washed from head to hoof. With coats gleaming and manes and tails looking their best, 70 majestic animals competed over the weekend in various classes.

The classes included ploughing, log snig, obstacle slide, barrel races, vehicles and, of course, the led and ridden classes. Spectators gained a remarkable insight into Australia's equestrian heritage, which continued with demonstrations of blacksmithing, vintage farm equipment, and leatherworking. A selection of old-fashioned market stalls selling arts and crafts, antiques, leatherwork, and memorabilia complemented the vintage theme.

Our Local Business Manager – Newcastle and Hunter Region, Kerry Foster, was at the event on behalf of the bank and presented the G&C Mutual Bank Supreme Led Exhibit winner's ribbons to Tony Parry with Dalswinton Charlotte.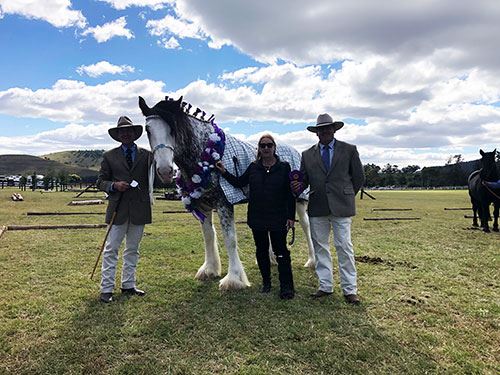 Kerry with the G&C Mutual Bank Supreme Led Exhibit winner 


The Assistant Superintendent at St Heliers, Rohan Archer, presented the Governor's Choice Award, which was judged during the G&C Mutual Bank Grand Parade. The proud winner was Barry Schaefer.


As the biggest heavy horse show in New South Wales, St Heliers provides a wonderful opportunity to see heavy horse breeds such as Shires, Clydesdales, and Percherons in action. This year marked the 25th anniversary of the Field Days and both days were filled with fun for the whole family. For some, the Field Days evoke fondness for a bygone era. For others, it is the size and beauty of the gentle equine giants that enthrals.


Congratulations to all the class winners and to Kylie and the team at the St Heliers Heavy Horse Field Days for putting on such a spectacular event. Our thanks to Kerry for arranging the sponsorship and generously helping out during the weekend.

As one of Australia's strongest mutual banks, our community ties are an integral part of our success. Providing sponsorship for community events, such as the Field Days, is one way in which we actively support our community. 


To find out more about G&C Mutual Bank's sponsorships and community activities, visit our community page or follow us on social media.