We're excited to share that we have been recognised by Canstar as one of only five institutions to offer Outstanding Value Low Cost Credit Cards in 2023. 
A fantastic achievement reinforcing our commitment to providing our members with a Low Rate Visa Credit Card that offers outstanding value, with a low rate, competitive features and low fees.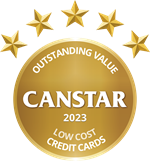 To determine the winners Canstar's Research Team follow a sophisticated methodology and assess individual credit card products on price and features. Our Low Rate Visa Credit Card was compared against 146 other credit cards and is one of only five institutions to be recognised in the Outstanding Value - Low Cost Credit Card category.
Learn more about our Low Rate Visa Credit Card.
To ensure that G&C Mutual Bank's products remain market competitive, we routinely submit our range of products for independent assessment and peer benchmarking. Our numerous awards confirm our ongoing commitment to providing products that offer great value for our members.